Sale!
Lot of 5 rice doypack precooked (3 purchased + 2 offered) Date of Minimum Durability June 02, 2022
TVA incluse
Price per kg : 18,75€ 
Net weight : 225g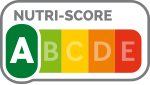 Out of stock
Description
"DUKAN KONJAC RICE
Why do I call this "second generation" konjac rice? First of all, because it is made with Indonesian konjac, a species which differs from Chinese konjac by the fact that it does not have the natural iodized odor, an odor which is accentuated during the voyage from China in the water of its trays which lasts 45 days.
On the other hand, Indonesian konjac is wild, it is harvested by hand in the forest. Once harvested, this Indonesian konjac is ground into flour and then formatted into rice with a little tapioca to give it its rice shape, its consistency close to classic rice and avoid the rubbery consistency of first generation konjac rice. Having acquired its shape, it is then dried. It then becomes dry rice and this is how we receive it in France.
This wild Indonesian rice is processed on site, we share the world exclusivity with the Japanese.
As soon as it arrives, it is sent to a semi-industrial company based in Carpentras which rehydrates it. It is then cooked for 2 hours to release the tapioca that gave it its shape and consistency. And then, all beautiful, all white, it is put in a bag.
Of course, this rice does not need to be cooked again. One minute in the microwave is enough. The portion is copious and can be shared or not, depending on your appetite.
In this doypack form, it is the ideal topping for a salmon steak or a chicken leg or a homemade tomato sauce. As there is still some tapioca left after cooking, I prefer to use it on PL days.
From this cooked rice, we created a Mushroom Risotto and a lightly spiced Saffron Paella. These two ready-made dishes are also ready to use.
These products are a real asset in the fight against overweight. They pursue the same goal, to bring sobriety in a world of abundance, provided that they keep the festive and warm message.
Dr Pierre Dukan"
DUKAN INNOVATION!
The first pearls of konjac ready to use: without rinsing and without cooking!
The pearls of konjac constitute a healthy and greedy alternative to the traditional starchy foods too rich in glucids! Konjac is low in calories, low in carbohydrates, fat free, wheat flour free, and high in fiber. Ready in only 1 minute in the microwave, these konjac pearls will be your slimming ally during your lunches and dinners!
√ RICH IN FIBER
√ REDUCED IN CALORIES
√ FAT FREE
√ NUTRI-SCORE A
√ EXCELLENT YUKA SCORE
√ READY TO USE
——————————————————
THE THOUSAND SEDUCTIONS OF KONJAC
In the beginning was konjac, the first generation one, the wild one, formidable in its effectiveness but arriving from China in its water pack, its translucent whiteness and its natural but sometimes annoying smell.
I was the first one to introduce this konjac in mass distribution.
But when I understood that in its current state, it would remain confined to the hardcore fighters of overweight and could never become a staple food like pasta and rice, I decided to work on giving it the means. I am convinced that if this happens, overweight and obesity will not be a problem.
For this, I filed a patent for its manufacture, special cooking, addition of oat fiber, molding of rice and pasta to change their texture, color and smell.
This metamorphosis took place in France.
I then handed over to cooks of French semi-craft companies to introduce pasta and rice in the most classic recipes for access to the general public. This is where my ambition lies, to put konjac pasta and rice in competition with pasta and rice which were a blessing when famine was killing.
Today, it is the opposite that happens and it is abundance that kills and among abundance, pasta and rice are among the top of the list.
So, spread the word, TRY THE second generation KONJAC.
INFORMATIONS NUTRITION
Ingrédients :
Eau, perles de konjac 22% (amidon de tapioca, farine de konjac (18%), eau, affermissant : hydroxyde de calcium, sirop de tapioca, antioxydant : acide citrique).
Conditionné sous atmosphère protectrice.
Conseils de préparation : Ouvir le haut du sachet et réchauffer au mirco-ondes pendant 1 minute à puissance moyenne. Ensuite, sortez les perles de konjac su sachet et dégustez-les comme du riz classique dans des recettes salées ou sucrées.
Astuces salées : à accompagner d'une sauce ou vinaigrette, de légumes ou crudités, d'une viande, poisson ou protéines végétales.
Astuces sucrées : à préparer dans des desserts et pâtisseries (riz au lait, gâteau de riz, pouding…)
---
Mode de conservation :
A conserver dans son emballage fermé à température ambiante. Après ouverture : à conserver au réfrigérateur et à consommer dans les 48h.
---
Valeurs nutritionnelles :
Valeurs nutritionnelles moyennes Pour 100 g
| | |
| --- | --- |
| Énergie | 297 kJ/ 70 kcal |
| Matières grasses | 0,5 g (dont acides gras saturés: 0,1 g) |
| Glucides | 16 g (dont sucres: 0,2 g) |
| Fibres alimentaires | 2,1 g |
| Protéines | 0,5 g |
| Sel | 0,01 g |
Indice Glycémique :

MÉTHODES
MÉTHODE CLASSIQUE
Ce produit en méthode forte
ESCALIER NUTRITIONNEL
Ce produit en méthode douce
*Dans le cadre d'une alimentation variée et équilibrée, et d'un mode de vie sain.
RECETTES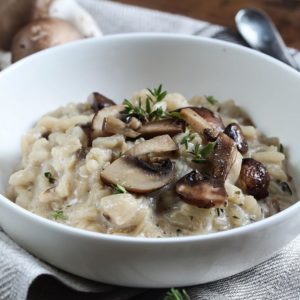 Voici une recette de risotto de champignons, réalisé soit avec des perles de konjac, soit avec du riz complet.
80gr de riz complet ou perles de konjac Dukan
1 échalote
400ml d'eau
1 cube de bouillon dégraissé
100gr de champignon (conserve)
1cs de crème à 3%
40gr de parmesan allégé
Préparer le bouillon (eau + bouillon cube volaille à défaut de vrai bouillon maison). Le réserver au chaud.
Mettre 2 gouttes d'huile dans casserole anti-adhésive, ajouter l'échalotte finement hachée et les faire dorer environ 2 minutes. Ajouter le riz (ne le lavez surtout pas, il perdrait tout son amidon !).laisser cuire environ 2, 3 minutes. Bien mélanger.
Incorporer alors le bouillon louche après louche en laissant au riz le temps d'absorber le liquide.
Il faut compter environ 20 minutes de cuisson. Goûter au fur et à mesure après 17 minutes de cuisson pour vérifier la texture du riz (al dente ou plus cuit : cela dépend des goûts). Au terme de la cuisson, ajouter la crème cela donnera le côté crémeux. Puis les champignon, bien mélanger. C'est prêt !