Sale!
Lot of 4 rice doypack precooked (3 bought + 1 offered) date of minimum durability 02 June 2022
TVA incluse
Price per kg : 18,75€
Net weight : 225g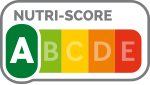 Out of stock
Description
"DUKAN KONJAC RICE
Why do I call this "second generation" konjac rice? First of all, because it is made with Indonesian konjac, a species which differs from Chinese konjac by the fact that it does not have the natural iodized odor, an odor which is accentuated during the voyage from China in the water of its trays which lasts 45 days.
On the other hand, Indonesian konjac is wild, it is harvested by hand in the forest. Once harvested, this Indonesian konjac is ground into flour and then formatted into rice with a little tapioca to give it its rice shape, its consistency close to classic rice and avoid the rubbery consistency of first generation konjac rice. Having acquired its shape, it is then dried. It then becomes dry rice and this is how we receive it in France.
This wild Indonesian rice is processed on site, we share the world exclusivity with the Japanese.
As soon as it arrives, it is sent to a semi-industrial company based in Carpentras which rehydrates it. It is then cooked for 2 hours to release the tapioca that gave it its shape and consistency. And then, all beautiful, all white, it is put in a bag.
Of course, this rice does not need to be cooked again. One minute in the microwave is enough. The portion is copious and can be shared or not, depending on your appetite.
In this doypack form, it is the ideal topping for a salmon steak or a chicken leg or a homemade tomato sauce. As there is still some tapioca left after cooking, I prefer to use it on PL days.
From this cooked rice, we created a Mushroom Risotto and a lightly spiced Saffron Paella. These two ready-made dishes are also ready to use.
These products are a real asset in the fight against overweight. They pursue the same goal, to bring sobriety in a world of abundance, provided that they keep the festive and warm message.
Dr Pierre Dukan"
DUKAN INNOVATION!
The first pearls of konjac ready to use: without rinsing and without cooking!
The pearls of konjac constitute a healthy and greedy alternative to the traditional starchy foods too rich in glucids! Konjac is low in calories, low in carbohydrates, fat free, wheat flour free, and high in fiber. Ready in only 1 minute in the microwave, these konjac pearls will be your slimming ally during your lunches and dinners!
√ RICH IN FIBER
√ REDUCED IN CALORIES
√ FAT FREE
√ NUTRI-SCORE A
√ EXCELLENT YUKA SCORE
√ READY TO USE
——————————————————
THE THOUSAND SEDUCTIONS OF KONJAC
In the beginning was konjac, the first generation one, the wild one, formidable in its effectiveness but arriving from China in its water pack, its translucent whiteness and its natural but sometimes annoying smell.
I was the first one to introduce this konjac in mass distribution.
But when I understood that in its current state, it would remain confined to the hardcore fighters of overweight and could never become a staple food like pasta and rice, I decided to work on giving it the means. I am convinced that if this happens, overweight and obesity will not be a problem.
For this, I filed a patent for its manufacture, special cooking, addition of oat fiber, molding of rice and pasta to change their texture, color and smell.
This metamorphosis took place in France.
I then handed over to cooks of French semi-craft companies to introduce pasta and rice in the most classic recipes for access to the general public. This is where my ambition lies, to put konjac pasta and rice in competition with pasta and rice which were a blessing when famine was killing.
Today, it is the opposite that happens and it is abundance that kills and among abundance, pasta and rice are among the top of the list.
So, spread the word, TRY THE second generation KONJAC.
NUTRITION INFORMATION
INGREDIENTS:
Water, Konjac pearls 22% (tapioca starch, Konjac flour (18%), water, firming agent: calcium hydroxide, tapioca syrup, antioxidant: citric acid).
Packaged in a protective atmosphere.
Preparation tips: Open the top of the bag and heat in the microwave for 1 minute on medium power. Then, take the konjac pearls out of the bag and enjoy them like traditional rice in savory or sweet recipes.
Savoury tips: to accompany a sauce or vinaigrette, vegetables or raw vegetables, meat, fish or vegetable proteins.
Sweet tips: to prepare in desserts and pastries (rice pudding, rice cake, pudding…)
---
METHOD OF CONSERVATION :
To be kept in its closed packaging at room temperature. After opening: keep refrigerated and consume within 48 hours.
---
NUTRITIONAL VALUES :
Average nutritional values For 100 g
| | |
| --- | --- |
| Energy | 297 kJ/ 70 kcal |
| Fat | 0,5 g (of which saturated fatty acids: 0.1 g) |
| Carbohydrates | 16 g (of which sugars: 0.2 g) |
| Dietary fiber | 2,1 g |
| Protein | 0,5 g |
| Salt | 0,01 g |
GLYCEMIC INDEX :

METHODS
CLASSICAL METHOD
This product in strong method
NUTRITIONAL STAIRCASE
This product in a gentle method
*Dans le cadre d'une alimentation variée et équilibrée, et d'un mode de vie sain.
RECIPES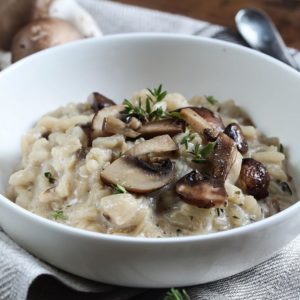 Here is a recipe of risotto of mushrooms, carried out either with pearls of konjac, or with complete rice.
80gr of brown rice or Dukan konjac pearls
1 shallot
400ml of water
1 cube of fat-free broth
100gr of mushroom (canned)
1 tablespoon of 3% cream
40gr of light parmesan cheese
Prepare the broth (water + poultry stock cube if you don't have a real home-made broth). Keep it warm.
Put 2 drops of oil in a non-stick pan, add the finely chopped shallots and brown them for about 2 minutes. Add the rice (don't wash it, it will lose all its starch!). Let it cook for 2 or 3 minutes. Mix well.
Add the broth ladle by ladle, allowing the rice to absorb the liquid.
It takes about 20 minutes to cook. Taste as you go along after 17 minutes of cooking to check the texture of the rice (al dente or more cooked: it depends on your taste). At the end of the cooking time, add the cream to give it a creamy texture. Then add the mushrooms and mix well. It is ready !