Lot de 4 Biscuits saveur caramel cannelle 140g
14,58€ TVA incluse
Prix au kg : 26,93 €
Poids Net : 140g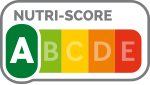 Out of stock
Description
Vous ne pourrez pas vous lasser des délicieux biscuits complets à la cannelle et au caramel Dukan! Dukan à la  cannelle et au caramel,  des biscuits complets à l'avoine, sains et satisfaisants , Dr. Il est inspiré du célèbre régime Dukan de Pierre Dukan. Il contient du son d'avoine au lieu de la farine blanche et un édulcorant (maltitol) au lieu du sucre blanc. Les biscuits complets Dukan cannelle et caramel à l'avoine  vous aide en utilisant des indices glycémiques bas!
Parfaite harmonie de cannelle et de caramel
Qu'est-ce que le son d'avoine? Le son d'avoine est une coque de céréale constituée de la couche la plus externe entourant l'avoine, contenant environ 90% de sa valeur nutritionnelle. C'est l'une des céréales les plus saines au monde avec des protéines, moulues à partir d'avoine, riches en fibres. C'est une riche source de fer, de magnésium, de phosphore et de potassium.
Contient des édulcorants. Avertissement allergène: contient du lait, du gluten, des œufs. Une consommation excessive peut créer un effet laxatif. Peut contenir des traces de fruits à coque dure. 1 paquet contient 20 (4 petits paquets x 5) biscuits. Grâce aux 4 petits emballages à l'intérieur, vous pouvez facilement transporter ces délicieuses collations où vous voulez, avec vous.
Un paquet (6 biscuits) est de 143 KCal.
√ PUR SON D'AVOINE
√ RICHES EN FIBRES
√ SANS SUCRES AJOUTÉS
√ NUTRI-SCORE A
NUTRITION INFORMATIONS
INGREDIENTS:
Oat bran 51%(gluten), sweetener (maltitol, isomalt,sorbitol), vegetable oil (palm), egg, skim milk powder, cinnamon (3.2%), soy flour, milk protein, baking powder (ammonium bicarbonate), emulsifier (sunflower lecithin), flavor (caramel). May contain traces of hazelnut, almond and sesame.
Allergens: contains dairy products, egg, soy and gluten. The nuts are produced in the same factory. Excessive consumption may create a laxative effect.
---
STORAGE INSTRUCTIONS:
Store away from light, moisture and heat.
---
NUTRITIONAL VALUES :
Average nutritional values Per 100 g
| | |
| --- | --- |
| Energy | 1741kJ / 409 kcal |
| Fat | 15 g of which saturated fatty acids 4.5 g |
| Carbohydrates | 54 g of which sugars 3.4 g |
| Dietary fiber | 17 g |
| Protein | 12 g |
| Salt | 0.3 g |
Indice Glycémique :

METHODS
CLASSICAL METHOD
This product in strong method
NUTRITIONAL STAIRCASE
This product in a gentle method
*As part of a varied and balanced diet and a healthy lifestyle.