1 anti-gaspi package chili con jacquier DDM 24 Jan 2022 + 1 doypack precooked rice long date of minimum durability
5,50€ TVA incluse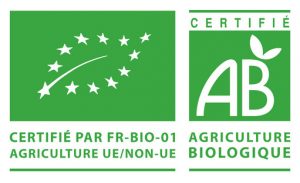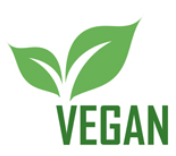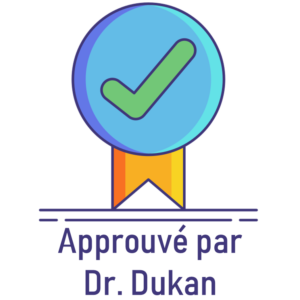 Out of stock
Description
1 doypack of pre-cooked konjac rice (long DDM) + 1 doypack of jackfruit chili con
Only 5,5 € instead of 6,71 € for 2 meals.
*These photos were taken by the Dukanewboutique team in our photo studio.
We have ourselves tasted these products before offering them to you.
They are perfectly consumable without any change in taste or texture up to 6 months after the date of minimum durability indicated DDM.
This product is very compatible with the Dukan konjac rice.
Savory grocery
Cooked dishes
Pre-cooked dishes
Fruit of the Jacquier
ECOIDÉES
Chopped Jackfruit in Mexican Sauce, 200G
The jackfruit is a tree that grows naturally in Asia and South India. It is found in the wild, including in forests, and is also frequently cultivated on small plots of land to complement other crops, often market gardens. There are many varieties of jackfruit, different in shape of fruit, leaf and tree. The taste is quite similar but can, depending on the species, be more or less sweet. In Asia the use of the jackfruit is very popular: when it is still green, that is to say not mature, it is consumed as a vegetable. Its originality lies in its texture: close to a vegetable meat, the local populations cook it as a poultry. In Indonesia, for example, the jackfruit is the main ingredient of a typical recipe from the island of Java, the famous Gudeg that can be found in street restaurants.
Its ripe fruit contains sweet capsules that surround the seed. These capsules are eaten raw or dried, preserved in syrup or marmalade. The production of a jackfruit is important and its fruits can become enormous: one can weigh more than 15 kilos! The dietetic properties of the jackfruit are due to its low calorie content and its richness in Vitamin B6. Source of fiber, its protein content is not significant.
However, vegans will be particularly pleased: the flesh of the jackfruit lends itself wonderfully to grilling, marinades, exotic dishes based on coconut milk, as an ingredient in Chinese noodles, rice, pasta, etc.
Anti Wastage – Minced in a tex-mex way ethnoscience bio eco-ideas
DDM: 24-01-2022
Dukan anti-waste, what is it?
NUTRITION INFORMATION
INGREDIENTS:
Flesh of green jackfruit 55%, tomatoes, peppers, onion, basil, oregano, garlic, red beans, black pepper, celery, sunflower oil, sea salt.
* Ingredients from organic farming.
Nutritional values :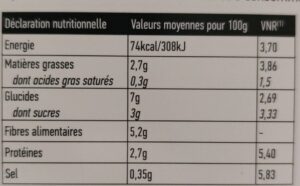 METHODS
*As part of a varied and balanced diet and a healthy lifestyle.